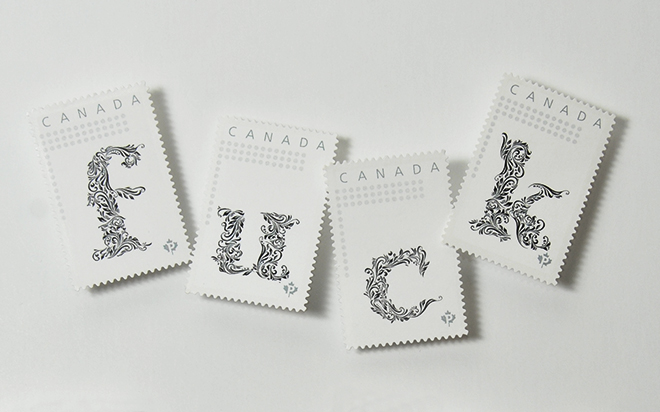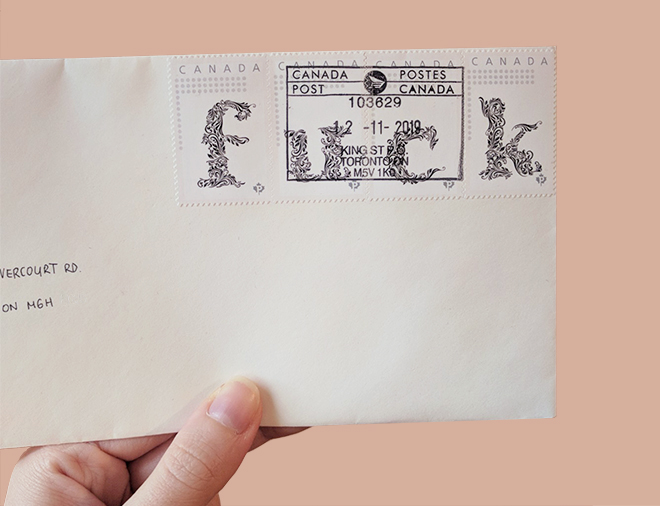 Okay! So! A few years ago I wanted to create a unique postal stamp(s) using the custom stamp programs available in both the USA and Canada. Along the way, I discovered there were some rules about what can or can't be on official stamps – such as the marijuana leaf, or inappropriate language, or basically anything that isn't "family-friendly" – so I wanted to have a bit of fun with that and find a loophole to circumvent it.

Thus the Blasphemail Postage Stamps were born! By ordering one letter a time, the goal was to create the first ever set of stamps that contained swear words, in this case spelling out the letters F U C K !

A year ago I wrote about discovering that the official American version of the custom stamps program, "Stamps.com", was no longer operating indefinitely and I wouldn't be able to order any more American stamps in stock. 🙁

Yesterday, a customer had ordered 2 packs of my Canadian stamps and I realized they were the last 2 I had in stock. I wanted to order more only to discover that Canada Post has also discontinued their custom stamps program! 🙁
So I guess that might be it, forever.
I still have some American stamps in stock, but once those are gone, I'm considering looking into the custom stamps programs from other countries to see if I can at least keep them going in some sense!
They truly are a collectible now.