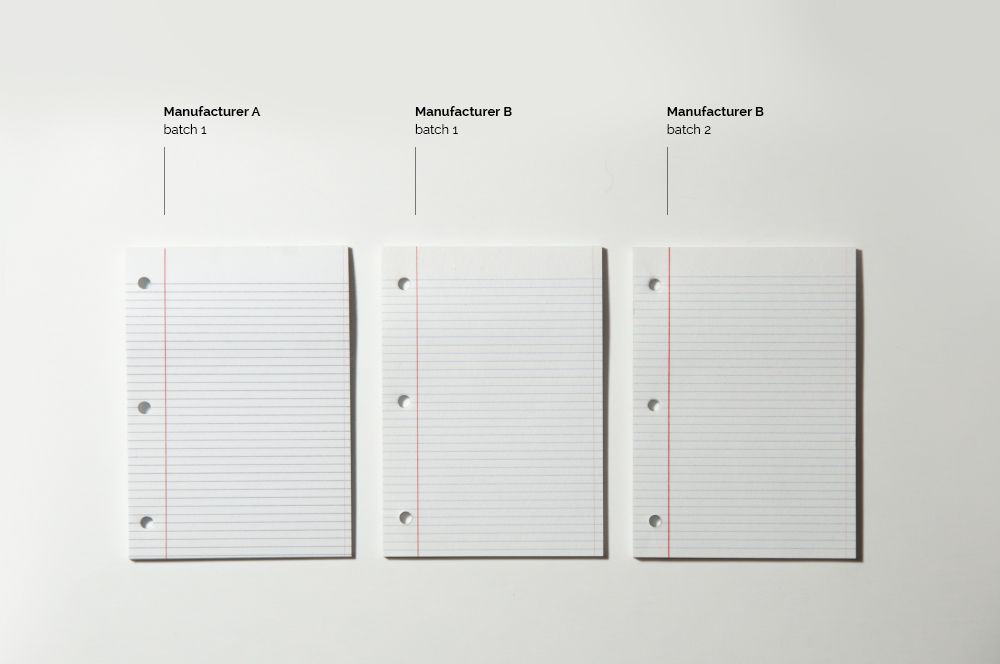 Let's talk sticky notes!

The Out of Line sticky notes are my 2nd bestseller after the Think Twice Dice. One of the unique selling points of these sticky notes is that they're a custom size and feature 3 punched holes on the left, and these little details also make a difference when it comes to finding a company to make them.
I'm actually on my 2nd manufacturer when it comes to these sticky notes. A general overview of each:
Manufacturer A: This was my first low quantity order. The manufacturer didn't shrink-wrap the sticky notes as agreed. They were just placed straight into a box with no protection and therefore many were damaged. The printing on them was dark and desaturated. Although it's normal for sticky notes to have a slightly bump or curve where the glue area is, these were extremely bent in a very unprofessional manner. The cherry on top was that the were hardly sticky at all! I couldn't sell these, so I just keep them for my own desk notes and give them out to friends.
Manufacturer B: This was a big improvement from the first one! Every aspect was better: they only have a slight bump in the glue area, the printing looks more vibrant and correct, they were shrink-wrapped into their packs of two and they were stickier. Now a lot of the time when you re-order a product from a manufacturer, things can be a bit different the next time around (this happens so often!) and in the 2nd batch the red line was thicker and brighter. I actually like both versions of it.
So I've had a few people recently let me know that the sticky notes aren't that sticky and may fall of the wall, so I wanted to dig a bit deeper into why and I asked my current manufacturer about this. I got a bit of insight about the 3 types of glue they use:
Chinese glue from Zhejiang. Apparently most sticky notes on the market use this type of glue (I'm assuming she's referring to the smaller batch, custom made sticky notes). The viscosity is the worst of the 3 glue types and the lifetime is about half a year.

Chinese glue from Guangdong. This mimics 3M glue, but to use this type of glue, the company has a minimum order quantity of 10,000 units.

3M glue. This is the best one they offer which is the most expensive and also has a very high minimum order quantity (not sure how many).
I want to improve the stickiness of my current sticky notes but I feel like I only have two options at the moment. I currently only order small batches between 250 – 500 units, so one option is to keep working on my brand and building product demand until the time feels right to actually hit a 10,000 unit order. Or I can do a new outreach to a bunch of new manufacturers and see if I can find a better sticky note quality for a lower minimum, but that's time consuming and also a whole new risk (minimums might be higher, there may be high "mold fees", other issues could come up).
But I'll keep my eyes peeled!
I'll have to stick to the current manufacturer and method in the meantime, but if anybody knows of other good sticky notes manufacturers, please share!